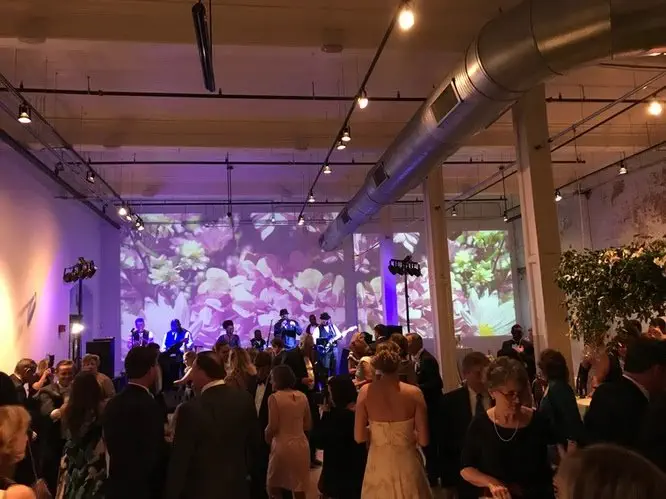 Weddings are a celebration of a couple's commitment to be together, of families joining together, and of all the time that has been spent in creating a bond that has enveloped into marriage. They're also a celebration of blooming where you're planted — it's a showing of two people who have created the new growth of a relationship.
Joe Bates of Ambient Media in Columbia, SC helped the garden grow at this particular wedding. He projected our Penny & Lucy Lou Art digital photograph creating a wall of flowers. It added the right amount of lighting and color to the space. As the space filled with guests mingling, your eyes could not stop moving around the room. Flowers hung from the ceilings over the bar and the light coming from the projection directed you to the band of musicians with their backdrop in full bloom.
The Projection Art we offer is completely versatile. It can be customized per space, per project or event. It can move through a slideshow. It can be as big or as small as you'd want it to be. Bloom where you're planted and create the space you've been dreaming of!
Have questions or an event you'd like to discuss, give us a call or email.
Penn and Lucy Lou
Penny McPeak
Penny & Lucy Lou Art
(803) 788-0559
penny@southernplacesinc.com