Custom monogram projections are a nice touch to any wedding or event. They really add a personal touch to your event and make it your own. Custom monograms can include dates, initials, names, and designs. Sometimes our clients give what they've designed themselves or a company logo that already exists. Other times we design the custom monogram for our clients. Either way, the end result is fabulous!
Here's a little information about how a custom monogram projection works: Once a design is settled, it's manufactured into a steel or glass plate called a Gobo. The gobo is what we put inside a theatrical light to project the image cut into the gobo.
Steel gobos are best if the projection only needs to be in one color and glass gobos are best if the projection needs to be in multiple colors. (like if the company logo that you're projecting is multi-colored) The cool thing about a gobo is that once it's made, you will always have it to use. So, if you ever have an anniversary party, renewal ceremony or any kind of event where you want to project that image again, the gobo already exists so all we need to do is hang the light needed to project it.
Here is a picture of what a steel gobo looks like.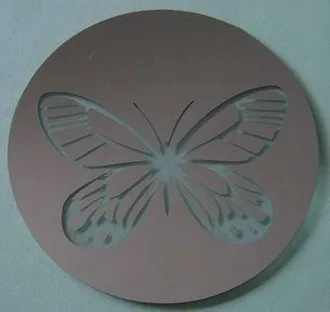 Gobos can be projected onto walls, ceilings, sides of buildings, dance floors or draping. Check out these photos of custom monogram projections. Some of them were designed by Ambient Media and some were provided by the client.